Featured Guest
Sheriff David A. Clarke, Jr.
The 64th Sheriff of Milwaukee County, WI
March 25, 2002 - present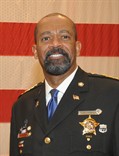 Underclass Crime in Urban America
Currently serving his fourth consecutive four-year term as Sheriff of Milwaukee County. Was first elected November 2002, receiving 64% of the vote. Re-elected November 2006, 2010, and 2014, earning 73%, 74% and 79% of the vote.
Served 24 years on the Milwaukee Police Department before becoming Sheriff.
Graduated summa cum laude with a Bachelor of Arts Degree in Criminal Justice Management from Concordia University, which named him Alumnus of the Year in 2003.
September 2013, earned an M.A. in Security Studies from the US Naval Postgraduate School, Center for Homeland Defense and Security, in Monterey, California. Collaborated with national security officials on current policy, strategy and organizational design challenges in security studies, homeland security and defense.
2016: Law Enforcement Leader of the Year Award from the Federal Law Enforcement Officers Association; and New Jersey Blue NOW magazine award for Sheriff Clarke's "leadership and support to our nation's law enforcement community."
In November 2015, Sheriff Clarke was presented with the Annie Taylor Award from the David Horowitz Freedom Center for "Daring the Odds" and exhibiting great courage.
February 2015, recipient of the Conservative Political Action Conference, Charlton Heston Courage Under Fire Award. CPAC presents the award only in years when it is deemed merited, to an individual "who stands up for their principles, even when doing so puts them at risk physically, politically, or economically."
2013 Sheriff of the Year Award from the Constitutional Sheriffs and Peace Officers Association for "staying true to his oath, true to his badge, and true to the people he has promised to serve and protect."
Graduate of the FBI National Academy, the United States Secret Service Dignitary Protection Program, and the Bureau of Alcohol, Tobacco, and Firearms Gun Trafficking Program.
Completed the 2005 "Driving Government Performance" executive education program; and the 2004 "Program for Senior Executives in State and Local Government," at Harvard University's John F. Kennedy School of Government in Cambridge, Massachusetts.
Graduate of the 2005 FBI National Executive Institute, and the 2004 Executive Development Program of the National Sheriffs' Institute and National Institute of Corrections.
In October 2009, received the Americanism Award from the Milwaukee County War Memorial Veterans Board of Directors. The board, consisting of 22 veterans organizations, commended Sheriff Clarke in "appreciation for his version of law and order."
Member of the International Association of Chiefs of Police, National Sheriffs' Association (member of its Legal Affairs Committee), Major County Sheriffs' Association, Milwaukee Fellowship Open, and the Badger State Sheriff's Association. Serves on the Law Enforcement Assistance and Outreach Committees of the National Rifle Association.
Past memberships: Trustee of the Boys & Girls Clubs of Greater Milwaukee, board member of the Milwaukee Tennis & Education Foundation, Greater Milwaukee Chapter of the American Red Cross, and the Three Harbors Council Boy Scouts of America.
Lifelong resident of Milwaukee, Wisconsin; graduate of Marquette University High School.
Sheriff Clarke and his wife Julie Clarke reside on the northwest side of Milwaukee.


Invitations were mailed on June 14, 2016 to WOW members who are current with their 2016 membership dues.

Registration deadline: July 15, 2016

For questions, please email info@womenofwa.com

If you register online, then please mail your RSVP card to indicate your guest names, meal choices & who you would like to be seated with. Or email these items to info@womenofwa.com.