Featured Guest
Edmund C. Moy
38th Director of the United States Mint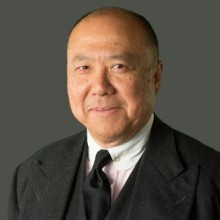 Trump: Transition to Presidency, an Insider's View
The Honorable Edmund C. Moy is a public servant, senior executive, commentator, author, and director of both publicly and privately held companies.

Mr. Moy has also participated in 5 presidential transitions efforts: 41 to 42, 42 to 43, 43 to 44, the Romney Readiness Project, and 44 to 45.

He has served in three different presidential administrations. From 2006-2011, he was Director of the United States Mint, which is the world's largest manufacturer of coins and medals. From 2001-2006, he served in the White House as a Special Assistant to the President for Presidential Personnel, where he was responsible for recommending candidates to the President to serve in his administration. From 1989-1993, he served at the Centers for Medicare and Medicaid Services, where he regulated managed health care organizations and managed the Medicare managed care programs.

Mr. Moy is a frequent commentator on economic policy, gold, and currency for the national financial media. He has been featured on CBS (including 60 Minutes), PBS (including the Jim Lehrer News Hour), and appears regularly on CNBC, Fox News, Fox Business Channel, MSNBC, and Bloomberg TV. The Wall Street Journal, New York Times, USA Today, Fortune, Forbes, Dow Jones, and Thomson Reuters also quote him frequently. He is also a regular contributor to Newsmax.

He lives in Arlington, VA with his wife Karen and his two daughters, both adopted from China.

SPECIAL EVENT: BRING A FIRST-TIME GUEST FOR FREE!!! WOW MEMBERS ARE ENCOURAGED TO BRING SOMEONE WHO HAS NEVER BEEN TO A WOW EVENT BEFORE. Email info@womenofwa.com to give us your guest's name.