Featured Guest
**John R. Lott, Jr., Ph.D. & **Professor David DeWolf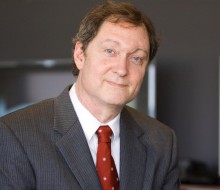 Dr. John R. Lott, Jr's. topic is "The War on Guns". He is an economist and a world recognized expert on guns and crime, and he is the president of the Crime Prevention Research Center. Lott has held research or teaching positions at various academic institutions including the University of Chicago, Yale University, the Wharton School of the University of Pennsylvania, Stanford University, and Rice University, and was the chief economist at the United States Sentencing Commission during 1988-1989. Nobel laureate Milton Friedman noted: "John Lott has few equals as a perceptive analyst of controversial public policy issues."

Lott has published over 100 articles in peer-reviewed academic journals and written nine books, including "More Guns, Less Crime," "The Bias Against Guns," and "Freedomnomics." He holds a Ph.D. in economics from UCLA.

His current book is "The War on Guns: Arming Yourself Against Gun Control Lies." Mark Levin, New York Times bestseller & host of "The Mark Levin Show" writes "John Lott is the nation's preeminent expert on guns, and in The War on Guns he has done it again. Do mass shootings occur more in the U.S. than other developed countries? No. Did Australia's gun laws make them safer? Hardly. Will background checks on private transfers of guns make us safer? No. He destroys one myth after another. John Lott is a national treasure."

Professor David DeWolf's topic is "Are Positive Rights Better Than Negative Rights?".
Professor DeWolf is one of our state's most respected constitutional scholars, and is Washington's leading authority in both contract and tort (liability) law. His books on tort and contract law have been cited over 100 times in Washington appellate cases as an authority on Washington law.

David graduated from Stanford University with a double major, then attended Yale Law School. Upon graduation, he was the law clerk to Justice Stephen Bistline of the Idaho Supreme Court. He then joined Lukins & Annis, the largest law firm in Spokane.

David recently retired after 28 years as a Professor at Gonzaga University Law School, where he taught his love of the law and respect for the constitution to nearly two generations of students. When it was suggested that he become a candidate for a seat on the Washington Supreme Court, David realized that he had a unique opportunity to combine several things he loved – immersing himself more deeply in the law of our state, writing accurately and clearly about it, and serving the people of this State.