Featured Guest
Washington Policy Center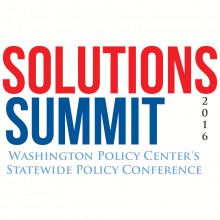 2016 Western Washington Solutions Summit
WPC's Solutions Summit will be the policy conference of 2016! This event combines their popular center-specific events into a half-day policy conference in Bellevue, concluding with a national keynote lunch speaker. With the huge success of last year's Solutions Summit, which brought together over 600 policymakers, business owners, community leaders and concerned citizens to discuss solutions to our state's most pressing issues, we are sure to have another informative and high-quality event in 2016.

2016 Solutions Summit Agenda
7:30am Opening Keynote Breakfast with national speaker
8:30am Transportation: "Redefining transit: What works and what doesn't"
Education: "How Education Savings Accounts can improve schools"
9:30am Health Care: "Meaningful health care reform"
Small Business: "How the Friedrichs Supreme Court case would protect worker
rights"
10:45am Government Reform: "How a state capital gains tax would affect businesses and
workers"
Environment: "Energy and water: Current problems and future solutions"
12:00pm Keynote Lunch with Kimberley Strassel, "Wall Street Journal" Editorial Board member.