Featured Guest
WOW Game Night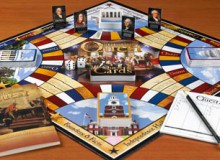 Constitution Quest Board Game®
Show up in RED, WHITE and BLUE and save room for Apple Pie ala mode, Chocolate Chip Cookies, and Root Beer Floats! All ages welcome!

Join us for a fun evening that will challenge and sharpen your Constitutional IQ! We'll learn what the Founders were considering when they established the Legislative, Executive and Judicial Branches of our Federal Government which gave Americans these Founding Principles and Core Values:

Free Markets - Limited Government - Strong National Defense - Personal Responsibility

The creators of Constitution Quest®, Dave and Pam Barret from Southern California, will be here to teach us how to play and learn with their entertaining board game.

We are also honored to host Veteran Bob O'Neal from the Washington State Society Sons of the American Revolution. He will make a very interesting visual presentation of the history of the American flag prior to the Betsy Ross 5-star flag adopted by George Washington. Mr. O'Neal, dressed in an authentic Revolutionary War uniform, will explain the history of the times as he presents each flag.

You won't want to miss this fun & entertaining evening with other WOW members and their guests. The deadline to sign up is only two weeks away!!