Upcoming WOW Event
Featured Guest
Washington Rep. Melanie Stambaugh
Represents the 25th Legislative District, Small Business Owner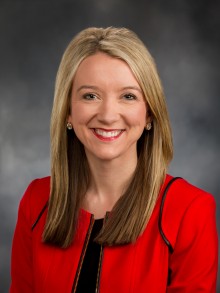 Representative Melanie Stambaugh represents the 25th District for the Washington State House of Representatives, which encompasses the Pierce County communities of Puyallup, South Hill, Fife, Summit-Waller, Midland, and Parkland.

Melanie is currently the youngest legislator serving in the Washington State House of Representatives. In 2014, at the age of 24, Melanie made history when she became the youngest female elected to the State House since 1934. She serves on the Transportation and Higher Education Committees.

Melanie graduated from the University of Washington's Foster School of Business and has used her entrepreneurial skills to build multiple family businesses.Melanie currently co-owns You Impression, LLC which specializes in professional and leadership development. As a Confidence Consultant, Melanie works with organizations, business teams, and individuals enabling them to achieve their personal and professional goals.

During her time in the legislature, Melanie's leadership has made an immediate impact on our community and state. Her ability to listen and lead with an open mind and work with all people has been demonstrated in her ability to obtain bipartisan results. Melanie has been called "a champion for students across the state" working for college affordability, protecting children's privacy, and working to expand career and technical education funding opportunities. Melanie was named the '2015 Legislator of the Year' by the Washington Student Association and she sits on the Homeless Youth Advisory Council, the School Safety Summit Advisory Committee, and the Education Accountability System Oversight Committee. Melanie has worked across the aisle to pass legislation that provides stability for our state's homeless youth, increases rehabilitation and reintegration efforts in our juvenile justice system, and improves our transportation infrastructure.
Outside of the legislature, Melanie is a self-taught graphic designer and avid percussionist who enjoys playing four-mallet classical pieces on the marimba. For fun, Melanie likes to watch animated movies, eat froyo, and support her UW Husky football team (go Dawgs)!