Featured Guest
Harmeet K. Dhillon
Partner, Dhillon Law Group; Founder of civil rights nonprofit Center for American Liberty; Fox News contributor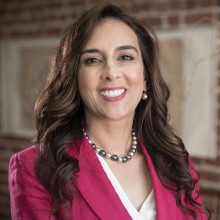 Harmeet Kaur Dhillon, the founder and senior partner of Dhillon Law Group Inc., is a lawyer who fights passionately for her clients in all walks of life.

Harmeet's practice, in addition to business and employment litigation, includes a substantial amount of constitutional litigation, including numerous free speech, due process, equal protection, and other fundamental rights issues. She founded civil rights nonprofit Center for American Liberty in 2018, which also handles civil rights cases involving speech and other liberty interest throughout the country.

Harmeet is presently suing the governments of four states for violating civil rights during the COVID crisis. She is also a frequent legal and media commentator on high-profile litigation and policy issues, including technology censorship issues. She is seen often on Fox News. When not fighting for her clients in the courts of law and public opinion, Harmeet can be found hiking, knitting, and sailing on the northern California coast.

The fee for this event is $25.00 per household.

Please note - this is an online event & it begins at 5:30 pm PDT. We hope you can join us!

We use BigMarker as our webinar platform. When you click on the red button, you will be directed to the Women of Washington website where you will register on the BigMarker platform. This is a safe and secure site. After you have registered, you will receive a confirmation email from BigMarker which includes the log in information for this event.


If you have any questions or need help to register online please email registration@womenofwa.com.