Featured Guest
George A. Sorial
Former Executive V.P. & Counsel to The Trump Organization for 13 years working alongside Donald Trump; Currently the Chief Compliance Officer for the business and close friend of President Trump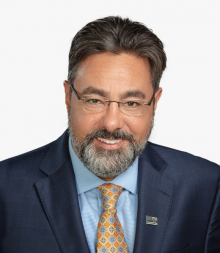 This event is also being recorded. If you wish to view this event at a later date, please register for the event and a link will be emailed to you following the event.

With decades of demonstrated experience, George A. Sorial is an attorney, author and consultant. He is the former Executive Vice President and Counsel to The Trump Organization and its affiliated companies with respect to its global portfolio. He is currently a partner at the Lucas Compton firm in Washington D.C.

Mr. Sorial has managed a variety of high profile legal and business affairs, negotiating with numerous domestic and foreign government officials, politicians and other prominent members of the international business community. Following the 2016 Presidential election, Mr. Sorial was appointed as the first Chief Compliance Counsel to The Trump Organization and was responsible for the implementation and supervision of the global company wide corporate compliance program.

With frequent public speaking engagements and media appearances, Mr. Sorial is a highly sought after contributor to print, radio and television including Fox, CNN, The New York Times, The Wall Street Journal, The Washington Post as well as many others.

The fee for this event is $25.00 per household.

Please note - this is an online event & it begins at 5:30 pm PST. We hope you can join us!

We use BigMarker as our webinar platform. When you click on the red button, you will be directed to BigMarker. This is a safe and secure site. After you have registered, you will receive a confirmation email from BigMarker which includes the log-in information for this event.

If you have questions, please email registration@womenofwa.com.