Featured Guest
Andrew Hill "Andy" Card. Jr.
Chairman of the National Endowment for Democracy
Former Chief of Staff for President George W. Bush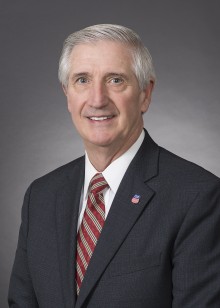 Andrew Card has held numerous positions at senior levels of government under three Presidents throughout the years, including Chief of Staff to President George W. Bush, where Card became the second longest tenured White House Chief of Staff. Card served as Deputy Chief of Staff to President George H.W. Bush, as well as U.S. Secretary of Transportation, and served President Ronald Reagan as a Deputy Assistant to the President for Intergovernmental Affairs.

While Chief of Staff to President George W. Bush, Card coordinated the priorities of the Administration's agenda, the development of policies, and appointments of Cabinet Secretaries and senior officials. On September 11, 2001, Card is the one who whispered in President Bush's ear while the President was sitting in a classroom in Florida, that terrorists had attacked the United States. Card then led a government-wide reorganization to best allocate resources to deal with the aftermath of 9-11 and the new terrorist environment.

He has served in the Navy, as an elected official at the local and state levels, as Vice President-Government Relations for General Motors Corp, a University President and much more.

He and his wife, The Reverend Kathleene (Bryan) Card have three children and six grandchildren.