Featured Guest
Pete Hegseth
Veteran, Author, Fox News Contributor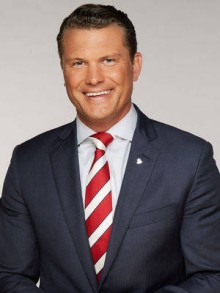 Pete Hegseth is the co-host of FOX & FRIENDS WEEKEND--America's #1-rated cable morning television show. He also hosts multiple programs on FOX NATION and provides commentary across all FOX NEWS and FOX BUSINESS programming.

In May of 2020, Hegseth's second book--AMERICAN CRUSADE--was published by Center Street and makes the case for a political and cultural crusade to fight for America's freedom. Hegseth's first book--IN THE ARENA--was published in 2016.

Pete is an Army veteran of Afghanistan, Iraq and Guantanamo Bay who holds two Bronze Stars and a Combat Infantryman's Badge for his time overseas. He still serves as an Army Major.

Pete is a graduate of Princeton University and Harvard University's John F. Kennedy's School of Government. Pete and his wife Jennifer have seven kids, all future Crusaders.

Hegseth previously served as the Chief Executive Officer for Concerned Veterans for America (CVA) from 2012-2015, the largest conservative veterans and military families organization in America.

The Registration Deadline is Wednesday, December 1, 2021.

Invitations for the luncheon were mailed on October 27 to WOW members who are current with their 2021 dues. Priority seating will be given to WOW members.

Festive Attire.

Please bring a Safeway Gift Card, in any amount, to support the military families or a Starbucks Gift Card to support the Volunteer Staff at Fisher House, a "home away from home" for our military families while loved ones receive care at the VA Hospital.

In addition to Member and Non-member pricing, we have a Special Premium level.
The Premium seating option includes a seat near the guest speaker's table, front & center, as well as wine at your table. This price is available to WOW members and first guest only.
1. When you click the "Register Now" button, the next screen will say "Standard".
2. Click on "Standard" and then log-in.
3. Go back to the Home page to Register again and the next screen will then give you the option to select "Premium".

To Pay Online, click on the RSVP button below. WOW members can get the special member price by logging in with their email address. If you have forgotten your password, please click on "forgot password" to re-set it. This is a very fast and secure way to make your payments, even more so than mailing a check.

To Pay by Mail, please email [email protected] to get the address to mail it to.

If you have any questions, need help to register online or want to tell us who you want to be seated with, please email [email protected] Please note that we are unable to accommodate any walk-ins the day of the event.