Featured Guest
Chris Farrell
Judicial Watch Director of Investigations & Research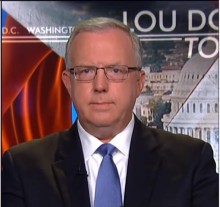 In lieu of a speaker fee, Women of Washington will be providing a donation to Judicial Watch. If you would like to support Judicial Watch and help WOW with the donation, we would appreciate you donating directly to Judicial Watch through this special link. By donating through this link you are helping WOW with the donation and it is tax deductible for you. DONATE HERE

This event is also being recorded. If you wish to view this event at a later date, please register for the event and a link will be emailed to you following the event.

Christopher J. Farrell joined Judicial Watch in 1999 as the organization's Director of Investigations & Research, and has been a member of the Board of Directors since September 2003. Chris is a native of Long Island, New York. He was a Distinguished Military Graduate from Fordham University with a B.A. in History, whereupon he accepted a Regular Army Commission and served as a Military Intelligence Officer – specializing in Counterintelligence and Human Intelligence.Chris is a graduate of the Military Intelligence Officers Basic and Advanced Courses, the U.S. Army Advanced Counterintelligence Training Course, the Combined Arms Services Staff School of the U.S. Army Command and General Staff College, the Defense Intelligence Agency's Military Operations Training Course, and the Haus Rissen Institut für Politik und Wirtschaft in Hamburg, Germany. He is a specialist in national security matters, specializing in unconventional warfare and terrorism.

Following command and staff assignments that included three tours of duty in the Federal Republic of Germany, and one tour at Supreme Headquarters Allied Powers Europe, Chris returned to civilian life as a contractor to the defense and intelligence communities. He also provided management and training consulting services to non-profit organizations, and was active in the establishment of a small, private, co-ed Christian high school where he both taught and served as director.Chris has appeared on numerous national TV and radio shows, and has authored dozens of articles. He contributed a chapter on terrorism to Dr. Irwin Redlener's book "Americans at Risk" (Alfred A. Knopf: New York, 2006). Chris maintains a busy lecture schedule on both government corruption issues and intelligence matters. He served as a Senior Staff Associate of Columbia University's National Center for Disaster Preparedness at the Mailman School of Public Health (2005 – 2008).He was an adjunct professor at George Mason University in Fairfax, Virginia (2013 – 2018). Chris is a member of the Association of Former Intelligence Officers; the Society of Professional Journalists; Investigative Reporters and Editors; the National Military Intelligence Association; and is a constituent member of the State Department's Overseas Security Advisory Council. Chris serves as the Judicial Watch main representative to United Nations Headquarters in New York.

The fee for this event is $25.00 per household.

Please note - this is an online event & it begins at 5:30 pm PST. We hope you can join us!


We use BigMarker as our webinar platform. When you click on the red button, you will be directed to BigMarker. This is a safe and secure site. After you have registered, you will receive a confirmation email from BigMarker which includes the log-in information for this event.

If you have questions, please email registration@womenofwa.com.