Featured Guest
Nigel Farage
Special pricing and VIP tickets available for members only. Please log in to view.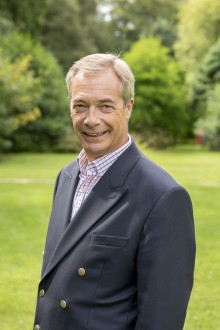 Please note that this is an evening event.

Mr. Nigel Farage is an internationally recognized British politician who co-founded and led the UK Independence Party (UKIP) from 2006 to 2016. As the leader of the Brexit party from 2019 to 2021, Mr. Farage accomplished what many said was impossible: he led the fight to withdraw the UK from the European Union.

Mr. Farage saw the dangers ahead as the European Union increasingly exerted its power and dominance over the member countries. In June 2016, British voters agreed to Brexit. The City of London, with so many elite global financial ties, were strongly against the UK leaving the EU. The financial newspapers and mainstream press were relentlessly against leaving, yet at the same time, quiet conversations with working people in London (like taxi drivers and hotel employees) made obvious the breadth of support for Brexit.

Outside London at the same time, there was enormous support and agreement that it was time to leave, and that is what they called the movement. All over the hillsides of England were huge signs proclaiming simply "LEAVE."

In June 2016, British voters did vote to leave the EU. Even with that decision made, it fell to the political machinery of the Prime Minister to undertake the negotiations of the UK withdrawal. This remarkable political accomplishment earns Mr. Farage an important role in future history books, and he continues to be one of the most influential and inspiring figures in British politics today.

Following the death of Queen Elizabeth II, Britain now has a brand new Prime Minister as well as a new King. The European Union appears to be collapsing, and there are global financial and supply hardships everywhere. We are in historic times.

We have a unique opportunity to hear from Mr. Farage as he begins what may be the most demanding era yet of his career. Please arrange your tickets early.

The Registration Deadline is Wednesday, November 30, 2022.

Please note that we are unable to accommodate any walk-ins the day of the event.
Parking is included.

Festive Attire

Meal Choices: Braised Short Rib - Applewood Smoked Steelhead - Emerald City Risotto (vegetarian)

5:00 pm Doors Open and Registration Begins
5:30 - 6:30 pm VIP Reception
6:30 Doors Open to Dinner
7:00 Program Begins

In addition to Member and Non-member pricing, we have a Special VIP level. The VIP seating option includes a seat near the guest speaker's table and wine at your table. It also includes a photo opportunity with the speaker. This price is available to WOW members and one guest only.

For WOW Members:
1. When you click the Register" button on the website, the next screen will say "Standard".
2. Click on "Standard" and then log-in.
3. Go back to the Home page to Register again and the next screen will then give you the option to select "VIP" or "Standard" member pricing.

To Pay Online, click on the Register button. WOW members can get the special member price by logging in with their email address. If you have forgotten your password, please click on "forgot password" to re-set it.
When you register, you will be given the opportunity to enter your meal choice and with whom you would like to be seated.

To Pay by Mail, please email [email protected] to get the mailing address.

If you have any questions or need help to register online, please email [email protected].