Featured Guest
Monica Crowley
Political and Foreign Affairs Analyst for Fox News, Senior Fellow with the London Center for Policy Research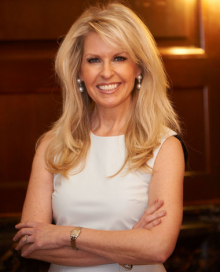 "After the Midterms: What's Next for the Trump Era"

Monica Crowley is a Senior Fellow with the London Center for Policy Research, appears regularly as a political and foreign affairs analyst for the Fox News Channel, and writes for the New York Post and The Hill, among other publications, including The Washington Times, where she also served as the Online Opinion Editor. She has also been a regular panelist on The McLaughlin Group, an anchor on MSNBC, and the host of the nationally syndicated radio program, "The Monica Crowley Show".

She is the author of The New York Times bestseller, "What The (Bleep) Just Happened? The Happy Warrior's Guide to the Great American Comeback". She served as Foreign Policy Assistant to former President Richard Nixon from 1990 until his death in 1994, and wrote two bestsellers about her experiences, "Nixon Off the Record" and "Nixon in Winter". She has also written for The New Yorker, The Wall Street Journal, The Los Angeles Times and Newsweek, and has lectured at Yale, Columbia, and MIT.

A member of the Council on Foreign Relations, she graduated from Colgate University and holds two Master's degrees and a doctorate in International Relations from Columbia University.

Registration is closed. There are a few seats available. Please email www.womenofwa.com for additional information.

Invitations were mailed to WOW members on October 17. Priority seating will be given to current WOW members. Parking is included.

Premium Seating option includes a seat in close proximity to the guest speaker's table, front & center, as well as a complimentary glass of wine or champagne. This price is the same for members & non-members.

To Pay by Mail, please send your check made payable to WOW by November 14 to:
WOW, P.O. Box 1771, Mercer Island, WA 98040

If you have any questions, or want to tell us who you want to be seated with, please email info@womenofwa.com.