Featured Guest
Larry Elder
Author; Radio & TV Talk-Show Host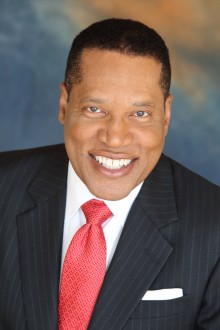 "The Axis of Indoctrination--How Hollywood, Media and Academia Indoctrinate America"
A "firebrand libertarian" according to "Daily Variety," best-selling author, radio and TV talk-show host Larry Elder has a take-no-prisoners style, using such old-fashioned things as evidence and logic. Larry shines the bright light of reasoned analysis on many of the myths and hypocrisies apparent in our system of government, our society, and the media itself. He slays dragons and topples sacred cows using facts, common sense and a ready wit.

Larry, the recipient of a star on the Hollywood Walk of Fame, hosted the longest-running afternoon drive-time radio show in Los Angeles, beginning in March, 1994. In 2016 "The Larry Elder Show" became a nationally syndicated daily talk show.

In his best-selling books, "The 10 Things You Can't Say in America", and "Showdown: Confronting Bias, Lies and the Special Interests That Divide America", Larry skewers the crippling myths that dominate the public agenda, takes on the "victicrats," trashes accepted "wisdom" and puts everyone on notice that the status quo must be shaken up. His third book, "What's Race Got to Do with It? Why it's Time to Stop the Stupidest Argument in America", is praised as an important, groundbreaking must-read for the future of race relations in America.

Small Bites, Beverages and No-Host Wine Bar

6:30 pm. Doors Open
7:00 pm. Program Begins

Deadline to Register is Thursday, February 5, 2020.

If you have questions or need help registering online, please contact registration@womenofwa.com.