Featured Guest
Henry Olsen
Senior Fellow, Ethics and Public Policy Center Columnist, "The Washington Post"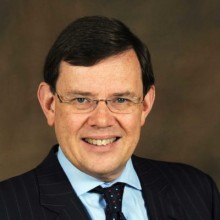 "A View, from Inside the Beltway, of the Upcoming Elections."
Columnist focusing on politics, populism, and American conservative thought

Please note that the fee for this event is $25.00 per household.

Henry Olsen is a Washington Post columnist and a senior fellow at the Ethics and Public Policy Center. Olsen began his career as a political consultant at the California firm of Hoffenblum-Mollrich. After three years working for the California Assembly Republican Caucus, he returned to school to become a lawyer. Following law school he clerked for the Honorable Danny J. Boggs on the United States Sixth Circuit Court of Appeals and as an associate in the Philadelphia office of Dechert, Price & Rhoads.

He then joined the think tank world where he spent the next eighteen years as an executive at a variety of institutions, serving as the President of the Commonwealth Foundation, a Vice President at the Manhattan Institute, and as Vice President and Director, National Research Initiative, at the American Enterprise Institute.

He left AEI in 2013 to pursue a career in political analysis and writing at EPPC. During that time his work has appeared in variety of leading publications in America and the United Kingdom. He is the author or co-author of two books, "The Working Class Republican: Ronald Reagan and the Return of Blue-Collar Conservatism" and (with Dante J. Scala) "The Four Faces of the Republican Party".

His biennial election predictions have been widely praised for the uncanny accuracy, and he is a frequent guest on television and radio programs. Olsen regularly speaks about American political trends and global populism in the United State, Europe, and Australia.

The fee for this event is $25.00 per household.

Please note - this is an online event & it begins at 5:00 pm. We hope you can join us!

Registration is easy:

You will be receiving a separate email from Women of Washington in the next couple of days with an invitation from BigMarker, our virtual system. Please follow the instructions on that email to register for this event.

You will need to add webinar.host@bigmarker.com to your address book so that you will receive these notices. Please check your spam/junk folder if you do not see it by Monday.

If you have questions, please email registration@womenofwa.com.