Featured Guest
Amani Mustafa
Author; Radio Host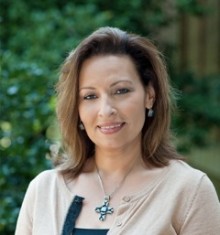 Born into an Islamic Egyptian family, Amani Mustafa's journey to freedom in Christ is a compelling story of faith, hope and courage. She credits the miraculous hand of God for her escape from the Middle East. Amani and her children, all practicing Christians, were relentlessly pursued and terrorized by Muslims in the U. S. and were forced to live their lives as fugitives for years.

As producer and host of an exciting TV show, "The Muslim Woman", it is the first Christian television program started specifically targeting Muslim women in the Middle East, North Africa, and the Arabian Peninsula. It now reaches 300 million households globally with 50 million actual viewers per live program. This courageous woman is a popular speaker who knows first-hand the suffering inflicted by the tyrannical hand of Islam.

Small Bites, Beverages & No-Host Wine Bar

6:30 Social Time
7:00 Program Begins

The Deadline to Register is Wednesday, March 4, 2020.

To Pay Online, click on the "Buy Tickets" button. WOW members can get the special member price by logging in with their email address. If you have forgotten your password, please click on "forgot password" to re-set it. This is a very secure way to make your payments, even more so than mailing a check.

If you have any questions or need help to register online please email registration@womenofwa.com.