Featured Guest
Ambassador Ryan Crocker (Ret)
Retired American diplomat who served as a career ambassador within the United States Foreign Service and recipient of the Presidential Medal of Freedom.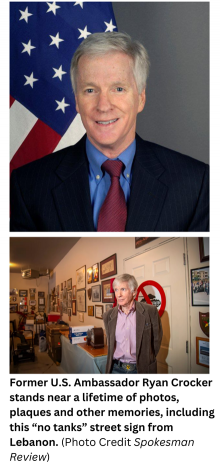 SOLD OUT EVENT!

WOW Christmas Event

Ambassador Crocker is the recipient of the Presidential Medal of Freedom, America's highest civilian award.

He served as US Ambassador to Lebanon.
He served as US Ambassador to Kuwait.
He served as US Ambassador to Syria.
He served as US Ambassador to Pakistan.
He served as US Ambassador to Iraq.
He served as US Ambassador to Afghanistan.
Crocker retired briefly from the foreign service in April 2009 after a 37-year career, but he was recalled to active duty by President Obama to serve as US Ambassador to Afghanistan in 2011.

The list of his affiliations with prestigious universities, including the War College, is long.

Ambassador Crocker grew up in an Air Force family attending schools in Morocco, Canada and Turkey, as well as the US. He graduated with a BA in English in 1971 from Whitman College, where he was honored with the Doctor of Laws degree in 2001. He has been similarly honored by several other prestigious universities.

He is a member of the Council on Foreign Relations.
He is a member of the American Academy of Diplomacy.
He is a member of the Association of American Ambassadors.
He is on the Board of Directors of Mercy Corps International.
He is the 2020 recipient of the prestigious Thayer Award at West Point. This quote is typical of the humility you will notice when you meet Ambassador Crocker: "To be honest, when I was in the (Thayer Award) Room and I looked at the portraits of the other award winners, (I thought) somebody made a terrible mistake."

We hope you will join us for this important Christmas Event with Ambassador Crocker.

This years' WOW Christmas Event is special for several reasons. You will arrive at the Event to the music of Cellovibes Duo of Seattle. A three-course sit down dinner prepared by the chef at Overlake Golf and Country Club will be served. A No-Host Cocktail Bar will open at 5:30 pm and remain open during the Event.

Our annual Christmas Event is a wonderful opportunity for you to invite family and friends to share this special evening with you. We expect this to be a sold out event, so please get your reservations early. Purchase your tickets online and give us the names of your preferred seatmates at that time. Please ask your family and friends to do the same when they purchase their seats online. All seating is assigned in the order received of paid reservations.

This will be a night to remember!

Contact Debbie Blodgett, Registration, to be put on the waitlist at [email protected]

Festive Holiday Attire is suggested!

5:30 Registration and Doors Open
6:30 Dinner is Served
7:30 Program Begins

Click on the "Register Now" button to make reservations and pay online. To access Member pricing, log in with your email address. To reset your password, click on "forgot password" and follow the instructions. This secure payment method is safer than mailing a check.

If you have any questions, need help to register online, or make us aware of any dietary issues, please email [email protected].

This year Women of Washington will be supporting the USO as our charity for our Christmas giving. Please bring a gift card, checks payable to the USO or cash to give to help support transitioning troops and deployed troops, military families, wounded warriors and families of the fallen.

Please note that we are unable to accommodate any walk-ins the day of the event.