Uncle Tom II
Directed by Justin Malone and Executive Producer Larry Elder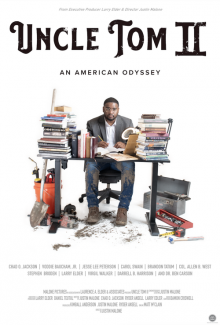 Uncle Tom II is an odyssey depicting the gradual demoralization of America through Marxist infiltration of its institutions. The film explores how this deceptive ideology has torn apart the fabric of society while using black America as its number one tool for its destruction. It takes audience into black America's often eradicated history of honorable men, entrepreneurship, prosperity, faith, and patriotism, to its current perceived state of anger, discontent and victimhood and unveils the Marxist strategy of creating false racial tension between Americans, with its ultimate goal of obtaining power, destroying capitalism and replacing God with government.
This is a two hour movie but we want to respect people's need to get home. Therefore, we will once again stop the film at 8:45 to allow for discussion. Then at 9:00, we will show the rest of the movie to anyone interested.

Please note that the first movie, Uncle Tom, is available for free on Prime. We don't believe it is necessary to have seen it first.

We recommend that you consider reading Color, Communism and Common Sense by Manning Johnson, available as a 14 page PDF here. This pamphlet was mentioned during the discussion of our last film.