Featured Guest
James O'Keefe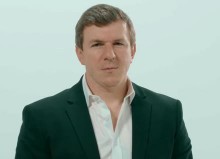 Biography

James O'Keefe is an American journalist and media innovator who uses undercover journalist footage and whistleblowers to create stories with his recognizable unconventional flair. He has founded three media organizations over his 15 year career.

O'Keefe is currently CEO of O'Keefe Media Group - OMG, which he founded in 2023. OMG is dedicated to empowering citizen journalists to replicate his model of exposing corruption and fraud. He's unleashed hundreds of citizen journalists who bring back documented untold stories.

O'Keefe's investigations have led directly to the passage of new legislation, federal and state investigations, Congressional inquiries, the defunding of taxpayer-funded groups, and even jail time for some of the most corrupt.

Further, his 2009 ACORN investigation led to the group's collapse. Other investigations resulted in: a Planned Parenthood Vice President's firing; NPR executives fired; an Enroll America director fired; Medicaid worker re-trainings; a formal investigation into the group Battleground Texas; Congressional field hearings into Obamacare navigator fraud. In 2017, his investigations into the DisruptJ20 movement led to the arrests of three people for conspiracy to commit assault at the National Press Club during the Presidential Inauguration.

James O'Keefe is a force for Truth.

While an undergrad at Rutgers University, he founded an independent newspaper he called The Centurion. Since graduation, his career awards include the Robert Novak Award for Journalistic Excellence in 2011, and the Young Professional Conservative Leadership Buckley Award in 2014 for "significant achievements in advancing the Conservative cause." He's been twice-named "Fox News Power Player of the Week." Also, James O'Keefe was honored by Forbes as a "30 Under 30" Media Mogul.

O'Keefe's latest undercover sting has FOX Producer Sean Langille recorded saying that Tucker Carlson's firing was negotiated in a recent sealed lawsuit settlement. FOX News says it is "categorically false" that the Dominion settlement at all impacted the decision to terminate Carlson.

It is a great honor for Women of Washington to welcome James O'Keefe as the headliner for our Summer Gala Event.

Please RSVP by July 15, 2023
This is a Seated, Three-Course Dinner Event, No Host Cash Bar and WOW Speaker Fund Wine Raffle Event, so there are no refunds after July 14, 2023.
Regretfully, walk-ins cannot be accommodated on the day of the event.

5:30 Doors Open to the Regency Ballroom
6:30 Dinner is Served
7:30 Program Begins

No Host Cash Bar

We will have a raffle to benefit the WOW Speaker Fund.

FESTIVE SUMMER ATTIRE

This is Women of Washington's premier annual event and it sells out quickly! Please make your reservation early so you don't miss this great evening! Tables will be assigned as paid reservations are received. We will do our best to accommodate seating requests. You may make your seating requests during the online registration process.

Invitations were mailed on May 18, 2023 to WOW members who are current with their 2023 dues. If you are a WOW member who did not receive your invitation or you have other questions about registration, please contact us at [email protected].

Premium Pricing: In addition to Member and Non-member pricing, we have a Special Premium level. The Premium seating option includes a seat near the guest speaker's table, front & center, as well as wine at your table. This price is available to WOW members and one guest only.